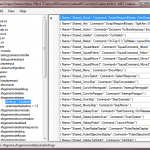 The ME3 Coalesced Utility allows you to open the Coalesced.bin file that comes with Mass Effect 3. This tool should work with Mass Effect 3 Legendary Edition too according to user reports. The latest version now supports editing and saving the file. The utility will make a backup of any file loaded (filename.bin.original).
Current Version
1.2 – Supports adding and renaming items in the tree
ME3Coalesced-latest
Previous Versions:
1.1 – Supports editing
ME3Coalesced-1.1
1.0 – Doesn't support editing
ME3Coalesced-1.0
.net Framework 4 (Client Profile) is needed. Download it here.