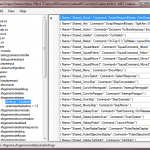 The ME3 Coalesced Utility allows you to open the Coalesced.bin file that comes with Mass Effect 3. The latest version now supports editing and saving the file. The utility will make a backup of any file loaded (filename.bin.original).
Current Version
1.2 – Supports adding and renaming items in the tree
ME3Coalesced-latest
Previous Versions:
1.1 – Supports editing
ME3Coalesced-1.1
1.0 – Doesn't support editing
ME3Coalesced-1.0
.net Framework 4 (Client Profile) is needed. Download it here.